"We did not want to live our lives the way everybody else does it."

– Jon Butcher
Did you ever just wake up and wondered what you were getting out of bed for again?
Ever felt completely lost for motivation to go to work? Or questioned for whom you were doing what exactly in this life? And, most importantly: why?
Well, you are not alone.
Many people in this day and age are dreading to go to work, or feel like they are doing what they are doing out of mere necessity. As a means to survive. Because they have responsibilities to tend to for instance. Or because they believe there is no alternative out there for them.
They live their lives according to the rules that their families or the larger society imposed upon them. Even if that way of living is not making them happy.
Unfortunately, the majority of these people is not actively seeking for alternative ways to experience life yet.
But luckily, there are also those who pave the way.
People who demonstrate that it actually is possible to craft a life you love. One that is filled with excitement, fulfillment, and joy.
And Jon and Missy Butcher are among those revolutionaries.
Not only are they demonstrating it's possible by living an extraordinary life themselves, they are actively teaching how to do this too. With their Lifebook program.
As Mindvalley is combining resources with Lifebook this year, more and more people will now be able to create a masterpiece of their lives.
And you can create an extraordinary life too.
Not one that we think would be extraordinary, or that society thinks you should lead. And not even one that your friends or family consider to be right for you.
But one you design for yourself. Step by step. On your own terms.

This is how and why Jon and Missy did it:
Jon and Missy Butcher's quest to create an extraordinary life

"Our culture is hosed up. We are living in a divided, mean spirited world.
But we are here to be part of the solution."

– Jon Butcher

Jon and Missy Butcher decided many years ago they did not want to live their lives the way everybody else does it.
No mediocre life for them. And they sure turned their lives into a living masterpiece.
Now, Jon is a rockstar entrepreneur and founder of 20 companies plus the chairman of the board of the Precious Moments Family of Companies, which has done over $10 Billion in sales in the past 30 years.
From aging to money to love to happiness, Jon and Missy decided to discard and burn all traditional rules of society and set their own laws.
"We looked around and didn't like what we saw", said Jon Butcher about the onset of their mission during an interview at Mindvalley's HQ last November, "We have a respectful disregard of how other people live their lives."
"And we both had a very adventurous nature – we were flash in the pan," added Missy.
So Jon and Missy went on to create their life completely on their own terms. From scratch.
Jon: "Early on we decided to ask ourselves: what kind of existence do we want to create on this planet? How do we want to parent our kids? What do we want from our love lives? We had no example here."
One of the radical choices they made was to homeschool their children for the most part. This way, they could bring them along on their travels and adventures all around the world several months per year. And teach them the skills that they themself weren't taught in school, but considered to be most valuable.
Jon referred to the current school system as a breeding place for victim creation: "I learned the hard way that no one was gonna fix my life. No one can do it for you. We need to create more conscious self-responsible people in this world."
Lifebook: the biggest jewel in the hardest moment

"Lifebook came as a solution to a very painful problem."

– Jon Butcher
Jon: "My whole family has a severe mental anxiety disorder. As I am the oldest of seven, I am one of those guys who parented my parents, and parented my siblings. But at some point my own anxiety disorder came up. I was house bound for two months, I had no idea what was happening to me."
The doctor Jon went to see, suggested that he'd take some medication. He prescribed the same medication as he did to Jon's brother. "I had seen the devastating effect of that path. So I refused the medicine. It led me on an 8 year quest to figure this thing out."
Through an attacking anxiety program, Jon started crafting his own Lifebook in the early 90s.
He was consuming a lot of personal growth and health and fitness content at the time. Especially audio content, with this being his prefered mode of learning.
Nathanial Branden, with his 6 Pillars Of Self-Esteem, became like a mentor to Jon, as did Tony Robbins. He learned that when you're a pioneer, you're gonna fall down. But you gotta get back up. "It comes with the territory."
A nutritional issue turned out to be the final piece of the puzzle. Jon: "Eating right for my body type resolved the anxiety within two weeks."
Missy: "I was kind of helpless in a way at that time. We worked on it together. But the hardest thing was not being able to help him. It's one of those life tragedies that make you stronger in the end."
"In our hardest moments we find our biggest jewels. This was for sure the case for me."
– Jon Butcher

---

How Lifebook helps you turn your life into a masterpiece


"We need to share this gift that we've been given."
– Jon Butcher
With the Lifebook program you consciously design your life the way you want it to be.
By focusing on 12 unique dimensions of being human, and by setting short term and long term goals for each area of your life, you get to experience what it's like to be the artist of your own masterpiece.
It starts with creating your life vision. That will be the result of the Lifebook program. It's your first draft but you're in the game.
Then, in the follow-up program, Jon and Missy make sure you get it right by asking these four questions:
Are you asking enough of yourself or are you playing small?


Are you asking too much of yourself? Are the objectives you set unrealistic?


Are you willing to pay the price for what you have written down in your Lifebook?


Will the attainment of this vision make you truly happy at the end of the day?"
Jon: "When Missy and I were in our early twenties, we met in Chicago, in the music business. We wanted to create our own record and break through as music artists. It took us a year to make a record. Then we went to 5 or 6 dance clubs to see if they were playing it. What we saw was a bunch of drunk motherf*ckers who didn't care about our music at all."
"I actually cried after that experience," Missy corroborated. "It felt very empty."
The lesson here?
Don't set a goal that's hard and that you will have to work your ass off for, but aren't happy with in the end.
"Take what you want and pay for it, says God," is the proverb Jon referred to in this matter.
You can have anything you want, as long as you accept that there is a price you have to pay. And Jon and Missy both assured that there always is.
A powerful skill you will learn in Lifebook is to take your life goals, turn them into annual goals and turn the latter into quarterly goals. This allows you to stay laser focused and prevents you from leaving anything behind.
The situation with everything in your life is very much like entropy, Jon explained:
"Everything in the universe is constantly falling apart. The nature of things is to decay. Whatever is left alone, the universe will disorganize. That is why we need to put constant positive energy into our goals. So that entropy won't dismantle what you've done up to date."
To the question whether or not Jon and Missy still assess their own Lifebook on a regular basis, Missy answered: "We go through the program ourselves too, it's a constant job to create an extraordinary life. Every year we go on a Lifebook trip to plan our lives."
Jon concluded: "It comes down to structure. We have busy lives, so we have daily, weekly, quarterly and annual rituals. Structure and habits are important. Habits, especially, are where the rubber hits the road."
Missy: "We've made all the mistakes. Had all sort of shit happen to us. In the Lifebook program we share how we did it. That's what's the beauty of it."
---
No mediocre life for you either? Learn more about Lifebook and how you can craft your own masterpiece in Jon Butcher's FREE Masterclass.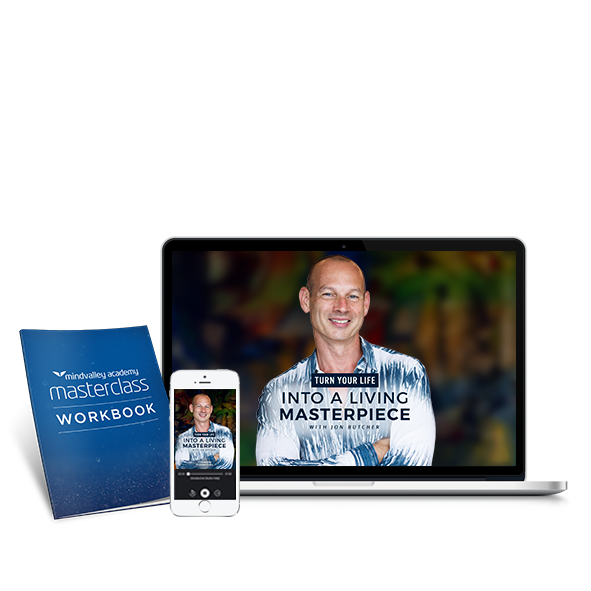 Turn Your Life Into A Living Masterpiece With Jon Butcher
Discover The Lifebook System for elevating your life from ordinary to extraordinary in this FREE masterclass. Click here to choose a date and time to tune in to the broadcast in your own local time zone.
What would make your life extraordinary?
And how do you make sure you don't lose track of your life goals?
Share in the comments below and inspire the tribe!