About The Video
---
"I was at rock bottom. I was broke, and I was broken... And I was tired of having potential. I wanted to have my now."
Twenty years ago, Lisa Nichols was single-handedly raising her baby son with less than $12 in her bank account. But when she could no longer afford to buy him Pampers, she promised him that she wouldn't settle for a life of scarcity.
Now, her appearance on The Steve Harvey Show is becoming a viral video, with over 40 million views and counting... And for good reason.
She shares the powerful story of how she went from "broke and broken" to becoming the most-requested teacher from The Secret. She's one of two African-American women to bring her company, Motivating the Masses, public — touching over 30 million lives with her message of transformation and inspiration.
And in this inspiring video, she asks, "Are you willing to reinvent who you are? Are you willing to kill away the procrastination? Are you willing to kill away the excuses?"
You can check out Lisa Nichols' new FREE Masterclass on Mindvalley Academy to learn more about how to use the power of your voice to inspire others.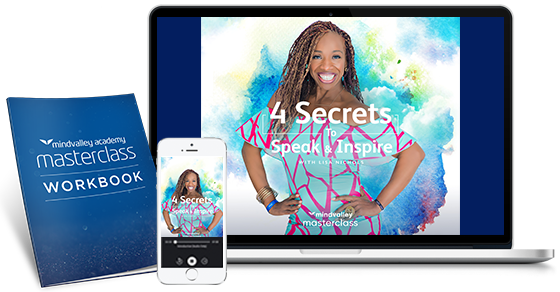 Discover 4 Secrets For Becoming A Masterful Speaker & Storyteller With Lisa Nichols.
Learn how to inspire and move an audience using just your voice with this FREE Masterclass. Choose your preferred session to attend below.
---
Did Lisa's story inspire or motivate you to become your best self? Share in the comments below.