Stop Asking For Permission, Start Living To Inspire
---
We've all been guilty of it.
Wanting someone else's validation. Waiting politely for our dreams to come true. Dimming our light so that we don't outshine others.
But what if you gave yourself permission to play big?
The happiest and most fulfilled people don't stay in the wrong job. They don't suffer through stale coffee and traffic jams. They don't settle for less when they know more is out there.
The happiest people live with purpose. They dream big and play big.

They act in ways that are congruent with their preferences, abilities and values. And they embolden others to live their authentic lives.

People like Martin Luther King Jr., Warren Buffet, Gandhi and Oprah Winfrey didn't wait for the world to be ready for them. They changed the world by speaking their message, and inspired others in the process.
So even when your faith waivers, remember that your dream is about more than just you. By living fearlessly, you'll inspire all those you come across to do the same.
Surpass Your Dreams By Becoming Your Best Self
---
Enter Lisa Nichols.
Lisa's now a multimillionaire, who has touched almost 30 million lives with her work as founder of Motivating the Masses, Inc. and as a contributor to The Secret.
But that wasn't always the case...
Lisa grew up in Compton between two warring gangs. Her highest grade in school was a C+ due to a learning disability. Her speech teacher once told her, "I recommend that you never speak in public and that you get a desk job."
Then, 20 years ago, Lisa hit "rock bottom."
She was single-handedly raising a child with only $12 in her bank account.
When she no longer could afford to buy Pampers for her baby son, she realized that she couldn't settle for a life of scarcity.
Now she's one of the world's most-requested motivational speakers, and she's here to ask you, "Are you willing to do the things you don't want to do and say the things you don't want to say so that you can become the man or woman you've always known yourself to be?"
At Mindvalley A-Fest Mexico 2016, Lisa moved the audience to tears with her powerful talk on how to inspire others by living out your life's quest.
She will stir your soul with this hour-long talk — and motivate you to pursue the authentic, abundant life you've always dreamed of.
The Best Highlights
---
(1:12) — Lisa explains how to escape mediocrity, design your life for greatness and align your choices with your purpose;

(5:29) — She shares how she turned her breakdown into a breakthrough, growing up in South Central Los Angeles to become a self-made millionaire, transformational coach and one of the most powerful speakers of our time;

(18:40) — This guided visualization will help you dream bigger and believe in yourself more than you ever have before;

(43:49) — And finally, this workshop will reaffirm your worth, your potential and your ability to create abundance now.
Here's one more empowering piece of wisdom from Lisa Nichols:
"Your life has less to do with you than it has to do with all of us that will
come across your path. And because you let your light shine,
you gave us permission to do the same."

- Lisa Nichols
---
If you want to learn how to overcome your public speaking fears and make a positive impact on the world, check out Lisa Nichols' upcoming FREE Masterclass on Mindvalley Academy.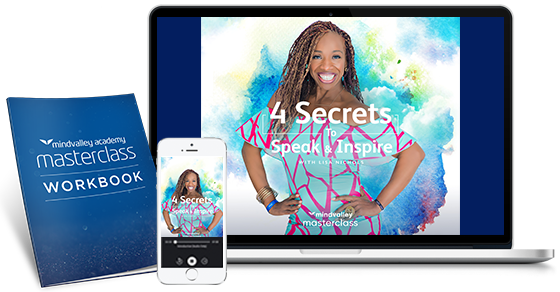 Discover 4 Secrets For Becoming A Masterful Speaker & Storyteller With Lisa Nichols.
Learn how to inspire and move an audience using just your voice with this FREE Masterclass. Choose your preferred session to attend below.
---
Are you ready to stop asking for permission and to start living to inspire? We'd love to hear from you in the comments below.