How To Create Abundance For Yourself
---
Can you say honestly that you are currently living your dreams?
Is your current reality congruent with who you are designed to be? Sometimes reaching for the stars is hard — most of us hold back from fear of change and of standing out.
By thinking like an abundant person, you can make great strides in achieving what you truly desire. But how do you think of abundance when your current reality is so different from that which you aspire to?
In this 40-minute talk from Mindvalley A-Fest Costa Rica 2015, founder of Motivating the Masses, Inc, Lisa Nichols, disrupts our ideas of abundance and challenges us to be who we were designed to be.
The Best Highlights
---
Lisa uses her personal journey from poverty to self-made millionaire to share her insights on achieving abundance and how you too can step into your purpose:
(15:26) — Lisa disrupts our ideas of abundance and describes what it includes and does not include;

(17:24) — You'll learn how to create micro wins to get to macro wins and how to celebrate the micro wins;

(19:10) — Discover the wisdom of "we fail but we always fail forward";

(21:15) — Lisa explains the power of "I am" in getting through to your subconscious mind.

(24:21) — You'll learn all about the power of cognitive dissonance, a form of mental disruption where you think about yourself in a way that doesn't match your current behavior.
But this is more than just a lecture.
At 31:26 she joins the live audience on the floor to ask a series of challenging questions to disrupt their sense of comfort in their current state and inspire them to take risks to change.
Watch this full talk to learn how to be the best version of yourself by thinking like an abundant person.
---
If you want to learn how to overcome your public speaking fears and make a positive impact on the world, check out Lisa Nichols' upcoming FREE Masterclass on Mindvalley Academy.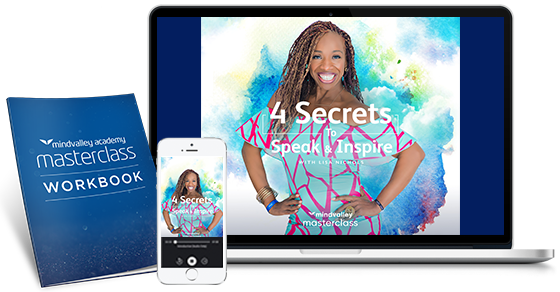 Discover 4 Secrets For Becoming A Masterful Speaker & Storyteller With Lisa Nichols.
Learn how to inspire and move an audience using just your voice with this FREE Masterclass. Choose your preferred session to attend below.
---
Are you thinking like an abundant person? We'd love to hear your thoughts in the comments below.